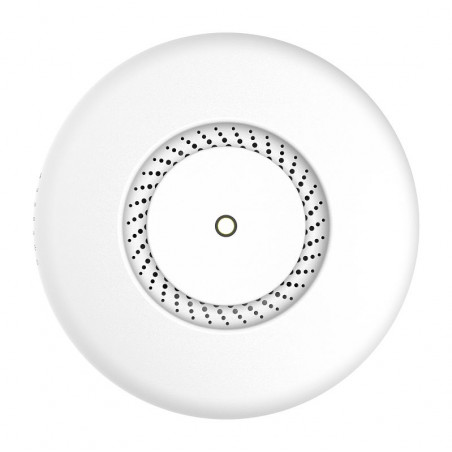  
cAP ac RbcAPGi-5acD2nD
Tax included
1 day delivery
cAP ac RbcAPGi-5acD2nD
Dual-band 2.4 / 5GHz wireless access point for mounting on a ceiling or wall with two Gigabit Ethernet ports (one with PoE output) and 802.11ac support
Fast Delivery!
Same or Next day dispatch after payment received!
Your data is secured!
Return option!
The cAP ac is a very capable and powerful wireless access point that looks beautiful on both walls and ceilings. The concurrent dual band wireless radio supports dual chain 2 GHz 802.11b/g/n and 5 GHz in a/n/ас standards, and will provide coverage in 360 degrees around it.
Even though the radio supports repeater mode, the two Ethernet ports give you the ability to extend your network with cables, even if PoE power is required, since the cAP ac supports 802.3af/at PoE input on the first port, and passive PoE output on the second port.
- cAP ac (International) supports 2412-2484MHz and 5150MHz-5875MHz range (Specific frequency range can be limited by country regulations).
Data sheet
CPU frequency

716MHz

CPU Cores

4

CPU Type

IPQ-4018

License level RouterOS

4

Size of RAM

128MB

Storage

16Mb

Ethernet port #

2

Ethernet speed

10/100/1000Mbit

Max Power consumption

24W

PoE in

802.3af/at

PoE in input Voltage

17V - 57 V

Wireless 5 GHz number of chains

2

Wireless 5 GHz standards

802.11a/n/ac

Antenna gain dBi for 5 GHz

2.5

Wireless 5 GHz chip model

IPQ-4018

Wireless 2.4 GHz number of chains

2

Wireless 2.4 GHz standards

802.11b/g/n

Antenna gain dBi for 2.4 GHz

2

Wireless 2.4 GHz chip model

IPQ-4018
Customers who bought this product also bought: