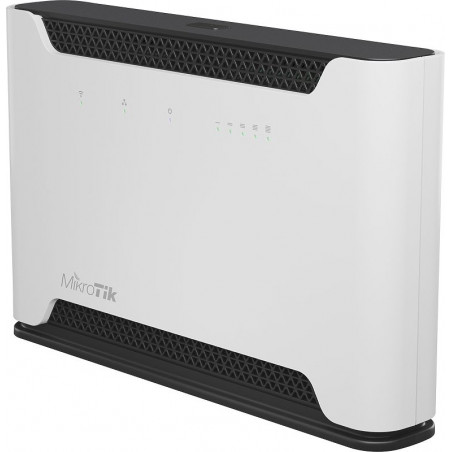  
Chateau 5G RBD53G-5HacD2HnD-TC&RG502Q-EA
Tax included
1 day delivery
One router to delight them all – introducing the ultimate home AP with ultra-fast LTE/5G support
Fast Delivery!
Same or Next day dispatch after payment received!
Your data is secured!
Return option!
The world is changing. With so many people working remotely, mobile operators are facing new connection speed and stability requirements. The answer is 5G, and we have made a single device that will satisfy the most diverse client base. From a regular household with no tech background to the most advanced groups of system administrators and engineers, the Chateau series has something for everyone.
Strong dual-chain dual-band 2.4/5 GHz wireless for concurrent coverage will solve most interference issues in a crowded environment. For example, a client can simultaneously use the 2.4 GHz channel for all household mobile devices and reserve the 5 GHz channel for tasks that are sensitive to packet loss – such as streaming high-quality videos.
Chateau can be customized: you can choose a variety of labels, we can print your branding, if necessary. And there is another great feature – you can use TR-069 technology to create a custom remote client management option. You can choose how much control your clients need and which features of the highly versatile RouterOS they get to use. Some operators use this to allow users to configure the router via the same web-page they use to pay bills, others restrict novice users from meddling with the settings to provide better browsing experience in the long run.
Chateau can be manufactured with the following 5G modems, with each one of the supporting a different bandwidth speed and the following channel bands:
RM500Q-GL - CAT16; Ant: 4; 5G NR NSA: 38,41,77,78,79; 5G NR SA:1,2,3,5,7,8,12,20,25,28,38,40,41,48.66.71,77,78,79; LTE-FDD: 1,2,3,4,5,7,8,12,13,14,17,18,19,29,25,26,28,29.30,32,66,71; LTE-TDD: 34,38,40,41,42,43,46,48

RM502Q-GL - CAT20; Ant: 4; 5G NR NSA: 38,41,77,78; 5G NR SA: 1,2,3,5,7,8,12,20,25,28,38,40,41,48,66,71,77,78,79; LTE-FDD: 1,2,3,4,5,7,8,12,13,14,17,18,19,20,25,26,28,29,30,32,66,71; LTE-TDD: 34,38,40,41,42,43,46,48

RM500Q-AE - CAT16;Ant: 4; 5G NR NSA: 1,2,3,5,7,8,12,20,25,28,38,40,41,48,66,71,77,78,79; 5G NR SA: 1,2,3,5,7,8,12,20,25,28,38,40,41,48,66,71,77,78,79; LTE-FDD: 34,38,40,41,42,43,46,48

RM502Q-AE - CAT20; Ant: 4; 5G NR NSA: 1,2,3,5,7,8,12,20,25,28,38,40,41,48,66,71,77,79; 5G NR SA: 1,2,3,5,7,8,12,20,25,28,38,40,41,48,66,71,77,78,79; LTE-FDD: 1,2,3,4,5,7,8,12,13,14,17,18,19,20,25,26,28,29,30,32,66,71

RG500Q-EA - CAT16; Ant: 8; 5G NR NSA: 1,3,5,7,8,20,28,38,40,41,77,78,79; 5G NR SA: 1,3,5,7,8,20,28,38,40,41,77,78,79; LTE-FDD: 1,3,5,7,8,18,19,20,26,28,32; LTE-TDD: 34,38,39,40,41,42,43

RG502Q-EA - CAT20; Ant: 8; 5G NR NSA: 1,3,5,7,8,20,28,38,40,41,77,78,79; 5G NR SA: 1,3,5,7,8,20,28,38,40,41,77,78,79; LTE-FDD: 1,3,5,7,8,18,19,20,26,28,32; LTE-TDD: 34,38,39,40,41,42,43
Data sheet
CPU frequency

716MHz

CPU Cores

4

CPU Type

IPQ-4019

License level RouterOS

4

Size of RAM

256Mb

Storage

16Mb

Ethernet port #

5

Ethernet speed

10/100/1000Mbit

DC jack

Yes

DC jack input Voltage

12-28 V

Wireless 5 GHz number of chains

2

Wireless 5 GHz standards

802.11a/n/ac

Antenna gain dBi for 5 GHz

5.5

Wireless 2.4 GHz number of chains

2

Wireless 2.4 GHz standards

802.11b/g/n

Antenna gain dBi for 2.4 GHz

3

Number of USB ports

1

USB slot type

USB type A

LTE Category

4 (150Mbps Downlink, 50Mbps Uplink)