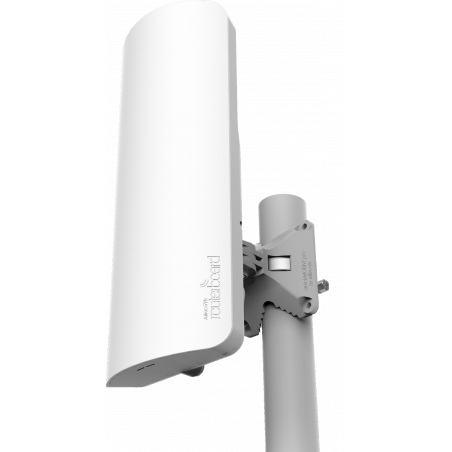  
mANTBox 52 15s - RBD22UGS-5HPacD2HnD-15S
Tax included
1 day delivery
A dual-band 2.4/5 GHz base station with a powerful built-in dual-band sector antenna, PoE support,DC jack, Gigabit Ethernet and SFP.
Fast Delivery!
Same or Next day dispatch after payment received!
Your data is secured!
Return option!
Are you managing an outdoor wireless network with a variety of access points and CPE devices? Then our brand new mANTBox 52 15s has got you covered – offering powerful built-in antennas, fascinating connectivity options and more!
Creating an efficient point-to-multipoint connection used to be tricky, but not anymore: mANTBox 52 15s works well in any setup. The dual-band wireless capability allows you to use both 2.4 GHz and 5 GHz devices at the same time. There is a Gigabit Ethernet port and an SFP port for fiber connections.
With mANTBox 52 15s you don't have to worry about power options – it supports 802.3af/at PoE-in. There is a Gigabit PoE injector and a standard DC power adapter included.
The RAM is doubled and a new quad-core CPU that can handle even the heaviest loads. mANTBox 52 15s can even provide IPsec hardware offloading without trouble.
Depending on the rest of your setup, you can reach distance up to 20 km with the built-in dual polarization antenna.
mANTBox package includes everything you need: a Gigabit PoE injector, a power supply, a hose clamp and a fastening set, and the MikroTik quickMOUNT pro. This advanced wall mount adapter allows turning antenna within 140° both horizontally and vertically. With the quickMOUNT pro it is possible to perfectly set antenna alignment using an integrated graduated scale.
Data sheet
CPU frequency

716MHz

CPU Cores

4

CPU Type

IPQ-4019

Size of RAM

256Mb

Storage

16Mb

Ethernet port #

1

Ethernet speed

10/100/1000Mbit

SFP port

1

Max Power consumption

22W

PoE in

802.3af/at

PoE in input Voltage

12-57 V

DC jack

Yes

DC jack input Voltage

12-57 V

Wireless 5 GHz number of chains

2

Wireless 5 GHz standards

802.11a/n/ac

Antenna gain dBi for 5 GHz

15

Wireless 2.4 GHz number of chains

2

Wireless 2.4 GHz standards

802.11 a/b/g/n

Antenna gain dBi for 2.4 GHz

12

Current monitor

Yes

Voltage monitor

Yes

Wireless 2.4 GHz Max data rate

300 Mbit/s

Wireless 5 GHz Max data rate

867 Mbit/s
Customers who bought this product also bought: