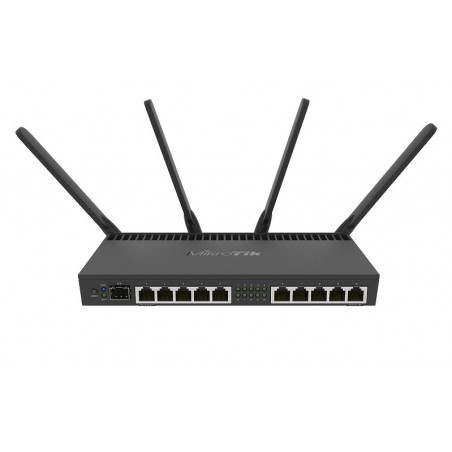  
RB4011iGS+5HacQ2HnD-IN
RB4011iGS+5HacQ2HnD-IN, 1SFP+, 10x1GBps, IPSec HW acceleration, 1U, Dual Band 2+5GHz, 4 chains
Fast Delivery!
Same or Next day dispatch after payment received!
Your data is secured!
Return option!
RB4011 series - amazingly powerful routers with ten Gigabit ports, SFP+ 10Gbps interface and IPsec hardware acceleration for a great price!
The RB4011 uses a quad core Cortex A15 CPU, same as in our carrier grade RB1100AHx4 unit. The unit is equipped with 1GB of RAM, can provide PoE output on port #10 and comes with a compact and professional looking solid metal enclosure in matte black.
RB4011iGS+RM (Ethernet model) includes two rackmount ears that will securely fasten the unit in a standard 1U rack space.
(RB4011 series are not compatible with our passive direct attach cables S+DA0001 and S+DA0003)
| | | |
| --- | --- | --- |
| 5 GHz | Transmit (dBm) | Receive Sensitivity |
| 6MBit/s | 33 | -96 |
| 54MBit/s | 29 | -81 |
| MCS0 | 33 | -96 |
| MCS7 | 28 | -77 |
| MCS9 | 26 | -72 |
| | | |
| --- | --- | --- |
| 2.4 GHz | Transmit (dBm) | Receive Sensitivity |
| 1MBit/s | 28 | -100 |
| 11MBit/s | 28 | -94 |
| 6MBit/s | 29 | -96 |
| 54MBit/s | 25 | -80 |
| MCS0 | 26 | -96 |
| MCS7 | 24 | -79 |
RB4011iGS+5HacQ2HnD-IN

                 AL21400 1G/S+ all port test
Mode 
Configuration

1518 byte
512 byte
64 byte
kpps
Mbps
kpps
Mbps
kpps
Mbps
Bridging

none (fast path)

806,4

9,792.9

2312,9

9,473.6

 
5509,7
2,821.0
Bridging

25 bridge filter rules
806,4
9,792.9
1037,4
4,249.2
1153,2
590.4
Routing
none (fast path)

806,4
9,792.9
1923,3
7,877.8
5092,3
2,607.3
Routing
25 simple queues
806,4
9,792.9
1046,6
4,286.9
960,3
491.7
Routing
25 ip filter rules
593,7
7,209.9 
625,2
2,560.8
564,6
289.1
1. All tests are done with Xena Networks specialized test equipment (XenaBay),and done according to RFC2544 (Xena2544)
2. Max throughput is determined with 30+ second attempts with 0,1% packet loss tolerance in 64, 512, 1518 byte packet sizes
3. Test results show device maximum performance, and are reached using mentioned hardware and software configuration, different configurations most likely will result in lower results
RB4011iGS+5HacQ2HnD-IN                      AL21400 IPsec throughput
Mode
Configuration
1400 byte
512 byte
64 byte
kpps

Mbps

kpps

Mbps

kpps

Mbps

Single tunnel
AES-128-CBC + SHA1
140.8
1577.0
141.2
578.4
139.9
71.6
256 tunnels
AES-128-CBC + SHA1
192.7
2158.2
200.5
821.2
203.4
104.1
256 tunnels
AES-128-CBC + SHA256
192.4
2154.9
200.5
821.2
203.4
104.1
256 tunnels
AES-128-CBC + SHA1
180
2016
188.2
770.9
190.3
97.4
256 tunnels
AES-128-CBC + SHA256
180
2016
188.2
770.9
190.3
97.4
256 tunnels
AES-128-GCM
192.7
2158.2
202.2
828.8
203.4
104.1
1. All tests are done with Xena Networks specialized test equipment (XenaBay),and done according to RFC2544 (Xena2544)
2. Max throughput is determined with 30+ second attempts with 0,1% packet loss tolerance in 64, 512, 1518 byte packet sizes
3. Test results show device maximum performance, and are reached using mentioned hardware and software configuration, different configurations most likely will result in lower results
Data sheet
CPU frequency

1.4 GHz

CPU Cores

4

CPU Type

AL21400

License level RouterOS

5

Size of RAM

1 GB

Storage

512Mb

Ethernet port #

10

Ethernet speed

10/100/1000Mbit

SFP+

1

PoE in

802.3af/at

PoE out

Passive PoE up to 57V

DC jack

Yes

DC jack input Voltage

12-57 V

Wireless 5 GHz number of chains

4

Wireless 5 GHz standards

802.11a/n/ac

Antenna gain dBi for 5 GHz

3

Wireless 5 GHz chip model

QCA-9984

Wireless 2.4 GHz number of chains

2

Wireless 2.4 GHz standards

802.11b/g/n

Antenna gain dBi for 2.4 GHz

3

Wireless 2.4 GHz chip model

R11e-2HnD

PCB temperature monitor

Yes

Voltage monitor

Yes

MiniPCI-e slot

1

IPsec hardware acceleration

Yes
Customers who bought this product also bought: