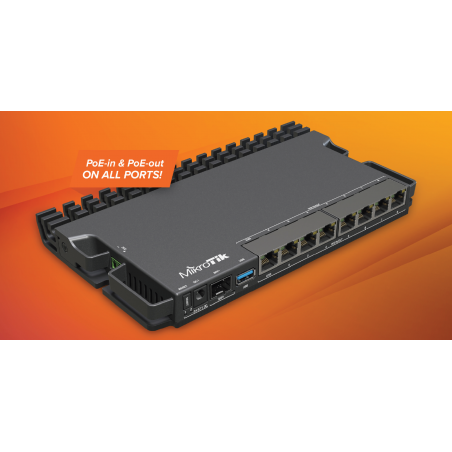  
RB5009UPr+S+IN
7x1Gbit Ethernet, 2.5 Gigabit Ethernet, and a 10 Gigabit SFP+ cage for fiber connectivity. It has the speed, the power, and the durability. But this time with PoE-in & PoE-out on all eight Ethernet ports.
Available on 29.09.2023!
Fast Delivery!
Same or Next day dispatch after payment received!
Your data is secured!
Return option!
The board features 9 wired ports and a full-sized USB 3.0. Seven of the ports are Gigabit Ethernet, another one is 2.5 Gigabit Ethernet, and the last one is a 10G SFP+ cage. All the ports are connected to a powerful Marvell Amethyst family switch-chip with a 10 Gbps full-duplex line leading to the Marvell Armada Quad-core ARMv8 1.4 GHz CPU. Both CPU and the switch-chip are located on the bottom of the board – so the case acts as a massive heat-sink!
RB5009UG+S+IN can be powered in 3 different ways:
a) PoE-in 802.3af/at from Ethernet port #1-#7
b) DC Jack - (24-57V)
c) 2-pin terminal on the side (24-57V)
All power options support a wide voltage range of 24 – 57 V. However, you can not mix the voltages. If you're using PoE-out to power other devices, the board will choose the source with the highest voltage (DC jack or the 2-pin connector) to power those.
Each PoE-out port can supply up to 25W of power - passive, 802.3af/at (max out per port output (input < 30 V): 640 mA, max out per port output (input > 30 V): 420 mA). All the ports combined are limited to 130W, which should be enough for most setups. You can specify maximum available power from your power sources manually, if necessary.
Boards come with 1GB of DDR4 RAM and 1GB NAND storage. This combination of ports and components, compared to our other products in a similar form factor, provides almost double the performance in configurations with heavy CPU loads.
With a simple set of mounting accessories, you can mount FOUR of these routers in a single 1U rackmount space!
Video can be found here.
Data sheet
CPU frequency

350-1400 (auto) MHz

CPU Cores

4

CPU Type

88F7040

License level RouterOS

5

Size of RAM

1 GB

Storage

1 GB

Ethernet port #

7

Ethernet speed

10/100/1000Mbit

SFP+

1

Max Power consumption

130 W

PoE in

802.3af/at

PoE in input Voltage

24-57 V

DC jack

3 (DC jack, PoE-IN, 2-pin terminal)

DC jack input Voltage

24-57 V

Number of USB ports

1

USB slot type

USB 3.0 type A

USB Power Reset

YES

Max USB current (A)

1

2-pin terminal input Voltage

24-57 V

Operating System

RouterOS (v7 only)

Number of 2.5G Ethernet ports

1

Max power consumption (without attachments)

15 W

PoE-Out ports

Ether1 - Ether8

PoE-In ports

Ether1 - Ether8
Customers who bought this product also bought: