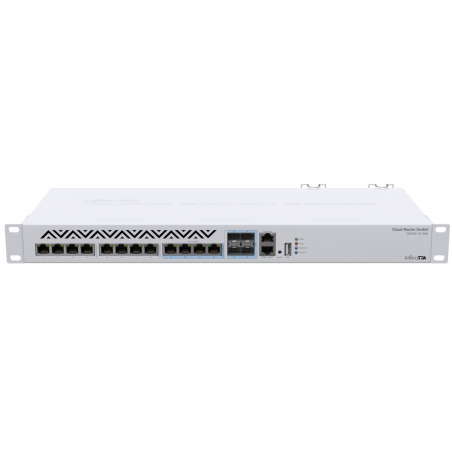  
CRS312-4C+8XG-RM
8x10Gbps RJ45 ports, 4 combo 10Gbps RJ45/SFP+ ports.RouterOS L5 or SwOS. Dual redundant PSU. USB A. Serial RJ45
Fast Delivery!
Same or Next day dispatch after payment received!
Your data is secured!
Return option!
CRS312-4C+8XG-RM – our first product with 10G RJ45 Ethernet ports. Moreover, it also has 4 x 10G combo ports: use them for 10G RJ45 Ethernet or 10G SFP+, when you need an additional fiber connection. Combo ports can be used alongside the 8 regular 10G RJ45 Ethernet ports at all times. These ports can also be software selected, so you can use RouterOS scripting, to decide which combo ports will be active. 
CRS312-4C+8XG-RM has a dual power supply for redundancy – no unexpected downtime when the deadlines are looming. It has a full size USB, a console port for configuration and a 1U rackmount case – fits all the standard racks.
You can choose between our legendary feature-packed RouterOS for booting or a simpler, but still powerful SwOS. If you would like the ability to use routing and other Layer 3 features in your CRS, use RouterOS. This switch has a great total non-blocking throughput of 120 Gbps, switching capacity of 240 Gbps and forwarding rate of 178 Mpps. CRS312-4C+8XG-RM – built for professionals, great for everyone!
CRS312-4C+8XG-RM

                                                   

 CRS312-4C-8XG all port switching results
Mode
Configuration
1518 byte
512 byte
64 byte
kpps
Mbps
kpps
Mbps
kpps
Mbps
Switching
Non blocking Layer 2 throughput
9752,8
118438.2
28195,5
115488.8
178571,3
91428.5
Switching
Non blocking Layer 2 capacity
9752,8
236876.5
28195,5
230977.5
178571,3
182857.0
Switching
Non blocking Layer 1 throughput
9752,8
120100.0
28195,5
120100.0
178571,3
120100.0
Switching
Non blocking Layer 1 capacity
9752,8
240200.0
28195,5
240200.0
178571,3
240200.0
CRS312-4C+8XG-RM

                                            QCA9531 all port test
Mode
Configuration
1518 byte
512 byte
64 byte
kpps
Mbps
kpps
Mbps
kpps
Mbps
Bridging
none (fast path)
37,4
454,2
82,8
339,1
162,5
83,2
Bridging
25 bridge filter rules
33,8
410,5
47,8
195,8
75,6
38,7
Routing
none (fast path)
37,2
451,8
73,3
300,2
144,9
74,2
Routing
25 simple queues
36,4
442,0
52,4
214,6
54,4
27,9
Routing
25 ip filter rules
33,8
410,5
41,4
169,6
41,7
21,4
1.All tests are done with Xena Networks specialized test equipment (XenaBay),and done according to RFC2544 (Xena2544)
2.Max throughput is determined with 30+ second attempts with 0,1% packet loss tolerance in 64, 512, 1518 byte packet sizes
3.Test results show device maximum performance, and are reached using mentioned hardware and software configuration, different configurations most likely will result in lower results
Data sheet
CPU frequency

650MHz

CPU Type

QCA9531

License level RouterOS

5

Size of RAM

64Mb

Storage

16Mb

Ethernet port #

8

Ethernet speed

10/100/1000/10000

Ethernet Combo ports

4

SFP+

4

Max Power consumption

60W

Serial Port

RJ45

Number of USB ports

1

USB slot type

type A

Number of AC inputs

2

AC input range

100-240 V
Customers who bought this product also bought: