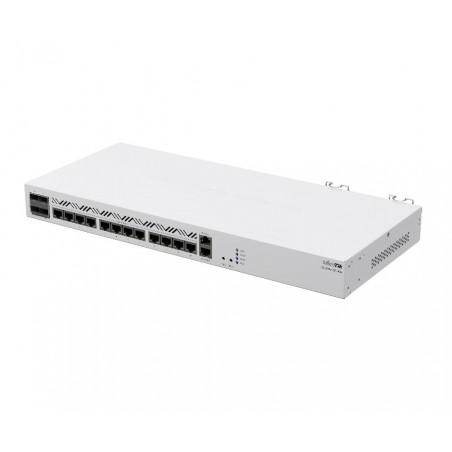  
CCR2116-12G-4S+
13 х 10/100/1000 Ethernet ports, 4 х SFP+(10G) ports, AL73400 CPU ARM 64bit 2 GHz, CPU core count 16, 16GB RAM DDR4, 2 AC inputs, 100-240 V, RouterOS (v7 only) L6
Fast Delivery!
Same or Next day dispatch after payment received!
Your data is secured!
Return option!
The MikroTik CCR2116-12G-4S + router allows you to forget about the CPU limitations in your settings. Like its younger brother, the amazing CCR2004 , this router is equipped with a powerful 16-core Amazon Annapurna Labs Alpine processor running at 2 GHz for 10G networks. And this is the most important aspect when it comes to heavy operations based on the processing of each connection. For example, queues. CCR2116-12G-4S + sets a new standard for single-core performance (an increase of at least 15%) for the entire CCR family of products!

Obviously, you will need the correct connection to use this power. There are four 10G SFP + ports with a separate full-duplex line connected to the Marvell Amethyst family switch chip. As well as Gigabit Ethernet ports: twelve of them work through a Marvel chip and another gigabit port is connected directly to the processor for control. Each group of 4 ports has a separate full-duplex connection to the switch chip: there are no bottlenecks and in most configurations you can count on the bandwidth of the switch.

The new generation of processors delivers stunning performance. If we look at the CCR1036, a powerful 36-core processor, the new CCR2116 can easily double performance. 16 cores against 36 cores. Double your productivity.

There is also an M.2 PCIe slot with SSD support up to 8 terabytes. This can be extremely useful for all types of container applications, as well as for other interesting uses.

If you are a large enough ISP dealing with dynamic routing, massive BGP, complex firewall rules, and complex quality of service configurations… This device is for you. Combining pure power and utility with a reliable 10G network. And as with any other ISP-level device, there is a dual redundancy power supply. So you have one less problem.

CCR2116-12G-4S +: A time-tested technology designed for the future.
Video for the product - link
CCR2116-12G-2S+                                         AL734400 All port test (7.1beta6)
Mode
Configuration
1518 byte
512byte
64 byte
kpps
Mbps
kpps
Mbps
kpps
Mbps
Bridging
none (fast path)
3204.8
38918.8
9114.6
37333.5
29458.9
16025.6
Bridging
25 bridge filter rules
2662.5
32332.9
2682.2
10986.4
2758.9
1500.9
Bridging
none (fast path)
3212.2
39009
9125.3
37377.4
28095.6
15284
Bridging
25 simple queues
3212.2
39009
6332.6
25897.3
6300.9
3427.7
Bridging
25 ip filter rules
3212.2
39009
3927.9
16088.7
3901.5
2122.4
1. All tests are done with Xena Networks specialized test equipment (XenaBay),and done according to RFC2544 (Xena2544)
2. Max throughput is determined with 30+ second attempts with 0,1% packet loss tolerance in 64, 512, 1518 byte packet sizes
3. Test results show device maximum performance, and are reached using mentioned hardware and software configuration, different configurations most likely will result in lower results
Data sheet
CPU Cores

16

Dimensions

443 x 199 x 44 mm

Size of RAM

16 GB

Storage

128Mb

Ethernet port #

13

Ethernet speed

10/100/1000Mbit

SFP+

4

Max Power consumption

72W

Number of AC inputs

2

AC input range

100-240 V

M.2 slots

2

RAM type

DDR4

Switch chip model

98DX3255