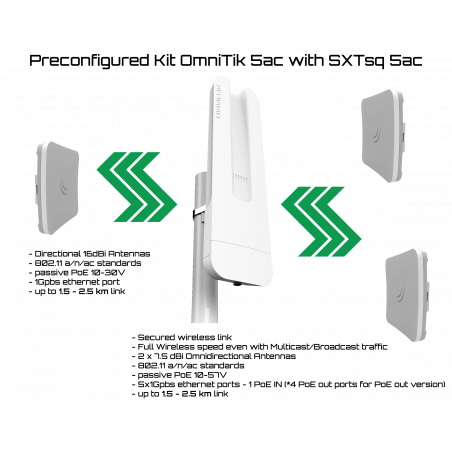  
OmniTik 5ac with 3 x SXTsq 5ac preconfigured kit
Preconfigured wireless kit of 1 OmniTik 5ac + 3 SXTsq 5ac.
Fast Delivery!
Same or Next day dispatch after payment received!
Your data is secured!
Return option!
This a preconfigured kit of OmniTik 5ac with SXTsq 5ac. 
Kit contains one OmniTik 5 ac and three SXTsq 5ac, paired and configured. Pair is suitable for links up to 2.5 km distance with direct sing of view. 
Configuration is tested and proved itself as stable and reliable for video surveillance applications or applications where multicast traffic is significant. 
The short story: Multicast does exist, but like most management traffic on a wireless network it must run at the lowest supported base/basic/required data rate. The reason why is that anything that is broadcast or multicast from the AP to surrounding clients must be sent at a speed that all clients must support and can receive reliably. Because the radio medium is a shared medium, a multicast frame sent at the lowest data rate can take 300X or more "airtime" than a unicast frame sent at the highest data rate. This is often far more efficient than sending multicast as multicast traffic.
Using MikroTik RouterOS features we avoid the above using techniques that masking multicast/broadcast traffic as unicast traffic. 
Devices work on 5GHz frequency using 802.11 N and/or AC standards. 
Data sheet
License level RouterOS

3
4

Ethernet port #

1
5

Ethernet speed

10/100/1000Mbit

PoE in

Passive

PoE in input Voltage

10V - 30 V
12-57 V

Wireless 5 GHz number of chains

2

Wireless 5 GHz standards

802.11a/n/ac

Antenna gain dBi for 5 GHz

7.5
16